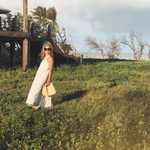 Why start a lifestyle brand?
Sonhouse was founded by Laura Shope as an evolution of her first brand Very Fine South, a leather handbags & accessories company.
Laura has always had a talent for creating beautiful things that bring beauty, joy, and innovation to others lives. She has a refined eye and point of view for design and style that comes from many years of experimentation & curation. She's driven by breaking a product or idea down into its fundamental materials (i.e. thread, textile, leather, dye, hardware, etc) and putting those pieces back together, by hand, in a thoughtful, sustainable and intentional way.  First it was handbags, & now it includes home goods & ready to wear.
The initial "practical' motivation to start Sonhouse was that friends and strangers kept asking for things she made. It was often followed by…
"You always look like you're on vacation."
Yes, it's true. She has always had a passion for getting in the car and setting out on the next adventure.  Chasing the sun. Exploring the mountains or the coasts. Seeing the awe inspiring beauty of nature. Putting her feet in the sand, a stream, or a grassy meadow. To feel the earth beneath your feet is grounding, and that first glimpse of the ocean ushers in perspective and peace every time.
She's learned that you don't have to go far for this feeling to envelope you, but instead to be to be present and find ways to evoke those feelings wherever you're at. For Laura this is found in the daily details - the pieces you interact with, what you wear & what you surround yourself with. They serve as reminders to live beautifully where you are, that you can, in fact, bring the intention of escape right back home.
These are pieces that make you feel comfortable, grounded, and effortlessly beautiful. On the body and in the home. Pieces that are quality crafted & thoughtfully designed for our busy lives, so they become more you as you wear & utilize them without the fear that you'll ruin them.
So, where did the name Sonhouse come from?
The sun has forever been a theme in her life. A love of daylight as it first peeks through the window, and slowly brightens as the day wears on. The constant hope of a new day that every sunrise brings. The concept of sun was always present in Laura's relationship with her father - the early days of him singing "You are my Sunshine", the words "there are brighter days ahead" that she still hears him using to comfort her, and his summer solstice birthday, the longest day of sunlight every year. Together, they spent a lifetime on one adventure after another, chasing the sun and seeing new places.
The passing of her father, the one who could always help her find the bright side of a cloudy day, shook Laura to the core and set in motion a process of personal healing. On darker days, it's her two sons who fill the house with light that keeps her going.  They continue to chase the sun together as a family, finding moments and memories to tuck away for a rainy day. Sonhouse is a place to pause and reconnect with the joy, depth, comfort, and beauty that adventure can bring you.