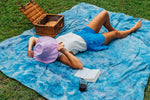 LINEN CARE
Linen is our go to fiber for our garments.  We love its relaxed look, the way it reminds us of a breezy day on the coast, and its never ending versatility transitioning through all seasons.  But our favorite quality is its natural sustainability.  Much stronger than cotton, linen pieces will stand the test of time.  The flax plant the fiber is created from does not require irrigation or pesticides during the growing process - less water and no toxins? Yes, please. 
While linen is an environmental champ, it can appear high maintenance at first blush.  With a little guidance, your linen pieces can be the easiest thing in your closet to maintain.
WASH IT
To avoid shrinking a garment or home good, we like to stick to cool or cold water.  Wash with a small load of the same colors, and use a mild detergent.  Our favorites are Ecos, Mrs. Meyer's, and Method.  A delicate cycle isn't necessary every wash, but will help maintain the integrity of seams and trims.  While we stick to 100% natural fibers, always check the care label as some garments may also contain other fabric content that don't do well in a wash.  If not drying cleaning, hand washing in cold water is always the safest bet.
DRY IT
Grab linen pieces out of the washing machine right away so wrinkles don't set in. Natural drying is best for linen and the planet, so reshape it while it's damp, then lie it flat or pop it on the line. If that kind of time is not available, tumble-dry it at the lowest temperature until it's just-damp, then let it air dry.  Just using the air setting, with no heat, will also speed up drying.  In any case of using a dryer, don't let the garment sit in the dryer and take on wrinkles.
IRON IT
Follow the above and your item shouldn't need much ironing. If it's too wrinkled for your liking, press the front and back at a medium temperature with plenty of steam. For stubborn creases, place a damp white tea towel over it first. Our favorite tool is a steamer.  Hang your garment up and work from the inside.  The steam trapped inside the garment helps the wrinkle fall out quickly, but be careful to not burn yourself by working from the top down. 
STORE IT
Keep it cool and dry. Hanging your linen pieces is ideal to keep it wrinkle free. When you pack it away for the winter, keep it as flat as possible to avoid wrinkles.  We like to fold our nicest pieces with unbleached or white tissue paper in between for longer term storage, or travel.